Lounge'D/Lounge'O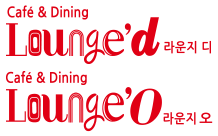 Happy Place Café & Dining
This is a newly created Coffeehouse & Dining restaurant, at which various Italian dishes such as pizza, pasta, salad and risotto are served with café beverages.We have 'Lounge O,' where you can enjoy a number of fusion dishes at reasonable prices on university campuses, and 'Lounge D,' where you can taste various trendy dishes from brunch to pizza cooked in a wood-fired oven, all at reasonable prices. Every store has its own unique interior and menu, so you will be able to enjoy every second you stay at any of these stores.
New dining trend

We are creating a new dining trend of rewarding our customers with reasonable prices for participating in our self-service Coffeehouse & Dining, where you can enjoy Italian fusion cuisine and beverages in one place.

Back to basics

Dongwon Home Food uses carefully selected quality food materials to make dishes that bring out the natural taste of their ingredients.

Open Kitchen

Customers can see the whole cooking process with their own eyes, making it safer and more hygienic for them to enjoy our chefs' food.

Various areas for communication

We provide a large area with tables, terraces, and private spaces for customers to hold seminars and family meetings. It is a great place for 'Lounge D' as well.