Samjo Celltech
Where Taste, Innovation and Reliability Meet
Established in 1984, Samjo Celtech has developed into a company that specializes in sauces and seasonings manufacturing. They are suppliers of both raw materials and complete products, including sauces, dressings, seasonings, premixes and spices, to more than 1,000 domestic clients that include franchise restaurants, fast food chains and retailers. They provide products that have been customized through their many years of experience and expertise, and have been growing their business area from products for business use to products for customer use.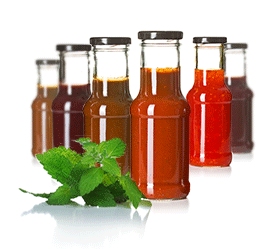 Asan factory, the largest factory in the industry, manufactures more than 2,000 items annually.
Samjo Celltech, which produces products in various shapes and sizes, provides good quality products by establishing an optimized computing system and applying improved quality systems such as ISO9001 and HACCP.

Total Solution
A Total Solution for everything from menu development to management support
In order to provide a full service package, Dongwon offers partner businesses access to a range of specialists, from food researchers to marketing professionals. These experts can assist with the full range of food services from product planning to menu development to production to delivery to management.
Research

Provides domestic and overseas market analysis and trend forecasting

Development

Supplies ingredients for flavored food products and menu plans
Holds a public demonstration of new products/menus

Management

Trains on-site personnel regarding product and menu management
Shares information and feedback continually
Provides customized products, from sauces to instant products
Dongwon Home Food can supply a variety of ingredients and finished products, such as sauces, salads, dressings, condiments, premixes, syrups and instant food. With years of experience, we can develop the high quality products that our customers need. Bechef, our ingredient brand, offers approximately 100 different products including sauces, spices and powders.
Enjoys close partnership with well-known restaurants.
We are a reliable partner for over 1,000 businesses, including pizza franchises, chicken franchises, restaurants, fast-food chains, bakeries and other food providers. We have expertise in the restaurant industry, and now we are expanding our customer base to include home cooks.